John Maeda
Now more than ever we need people who can lead humanity toward technologies that improve society rather than technologies that simply improve over technology itself.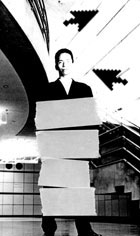 I was attracted back to MIT from my career as a designer in Japan by the words of President Vest, "Engineering will be the humanities of the twenty-first century."
I believe that as MIT continues to redefine itself not only as a center for world-class technology developments, but also as an institution dedicated to significant cultural developments, bold initiatives must be undertaken to realize this opportunity.
In this spirit, within the next 15 years, I plan to build a new space for digital arts and design, completely realized in the virtual domain around a technology I call OpenAtelier. This international entity could become the Bauhaus of the twenty-first century and is wholly realizable within the constraints of today's technologies. By expanding its innovative presence beyond technology into the visual domain at this scale, MIT will lead an emerging generation of artists and designers who effortlessly create in the new medium of technology.
---
Favorite childhood toy: cardboard
---