Joe Paradiso
I like to explore the less worn, riskier path. This has manifested itself in many ways—from my years in high-energy physics, peering into the microstructure of the universe, to my hobby of searching out obscure music that few have heard.
I am also obsessed with building. My need to make things is never satisfied—it's led me from writing detailed simulations for spacecraft re-entry to building one of the world's largest modular music synthesizers. The opportunity to unify my many interests drew me to the Media Lab.
Sensor development is a common thread that has linked much of my work. My research has concentrated on the development of sensor technologies that open new channels of interaction for human-computer interfaces, human expression, and responsive spaces. This goal has led to highly diverse applications: from a chair designed to track the gestures of a seated musician, which was later used in a life-saving device for an intelligent car seat; to a shoe-based interface that gives a dancer access to entirely new avenues of expression and control, which is now being tested as a wearable system for interactive physical therapy.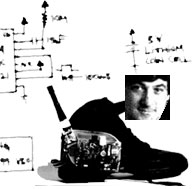 I'm most fascinated by research at the boundary where fine-grained sensing meets highly distributed, decentralized computing. Our ability to intimately blend diverse sensors with local, interconnected processing promises to usher in a new generation of intelligent materials or multimodal electronic skins, where the frontiers of electronics fabrication, sensor integration, data fusion, ad hoc networking, and emergent computation intersect to launch a new field of sensing mechanisms with nearly biological complexity. Such work holds the potential for revolutionary applications in areas such as robotics, medical diagnostics, and smart materials.
---
Favorite piece of music recently released: I.E.M.'s "IEM Have Come For Your Children"
---