Rosalind Picard
I want to understand things that interest me, and build things that understand and interest people.
I'd like to figure out how people perceive affect: What is it that tells you when somebody is pleased or displeased with what you did? Then, once we understand this, how can we encode this ability in a machine, so it too can see what pleases or displeases?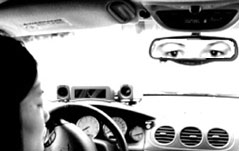 If the computer, robot, PDA, or even an article of "smart" clothing or jewelry can figure out what annoys you, what should it do? When should it be silent, interrupt you, or even apologize? How can it make such complex emotion-savvy decisions given limited inputs, limited intelligence, and limited processing resources?
Neuroscientists have provided increasing evidence that the human brain regularly makes complex intelligent decisions quickly because it doesn't take the time to logically consider all possibilities. Instead, it uses an "emotion system" to regulate information. This is surprising because we usually think of emotion as making people less, rather than more, rational. It now appears that emotion may be essential for flexible, intelligent, rational thinking.
I want to build systems that are truly flexible and intelligent when it comes to interacting with you. These systems should be judged not just by what they can help you accomplish and how fast, but also by how much you enjoy working with them. To achieve this, I need to figure out how to quantify states like frustration, stress, and pleasure, and to develop engineering tools to measure affective information from the human body. Think about it: what could you do with a machine that, literally, reads your heart?
---
Favorite childhood toy: LEGO
---