Ted Selker
I want to make technology that minimizes human and machine energy consumption while maximizing understanding and efficiency.
I want to create toys and tools—and ways of creating toys and tools—that help the world.
I want to take so little that the world will spin forever.
I want to teach people to hold on to good dreams.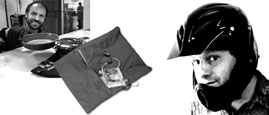 My work in context-aware computing focuses on creating technology to help bridge the gap between humans and machines. My research group constructs scenarios in which computers can learn from people's behavior, and uses this knowledge to anticipate their needs and actions.
Contextual design can be as simple as the physical ergonomics of designing children's cups that do not spill. However, this can be taken to another level with mechanical computer systems.
We have discovered how to gather data and learn from the way people move their eyes, the way that they walk, or how they move a mouse. Computers follow patterns of behavior and can respond according to these human cues.
All creations can be more efficient. We simply have to become more aware of our actions, the functional value of the objects with which we interact, and their place in the world. Just imagine what inventors could accomplish if they could use computers to help them understand and gain insight into human behavior.
Our intuition is not an adequate tool for understanding the impact of today's technology. I hope to build tools—and to teach others to build tools—that will enable creators to evaluate better alternatives and to raise the standards of invention.
As the systems improve, our goal is to take the tool out of the task, making the collaboration between humans and machines feel efficient and effortless—ultimately to create machines that respond seamlessly to human desires and intentions.
---
Favorite childhood toys: a lamp with a plug that I dragged around at age two, LEGO, TV, and radio electronics at 10
---